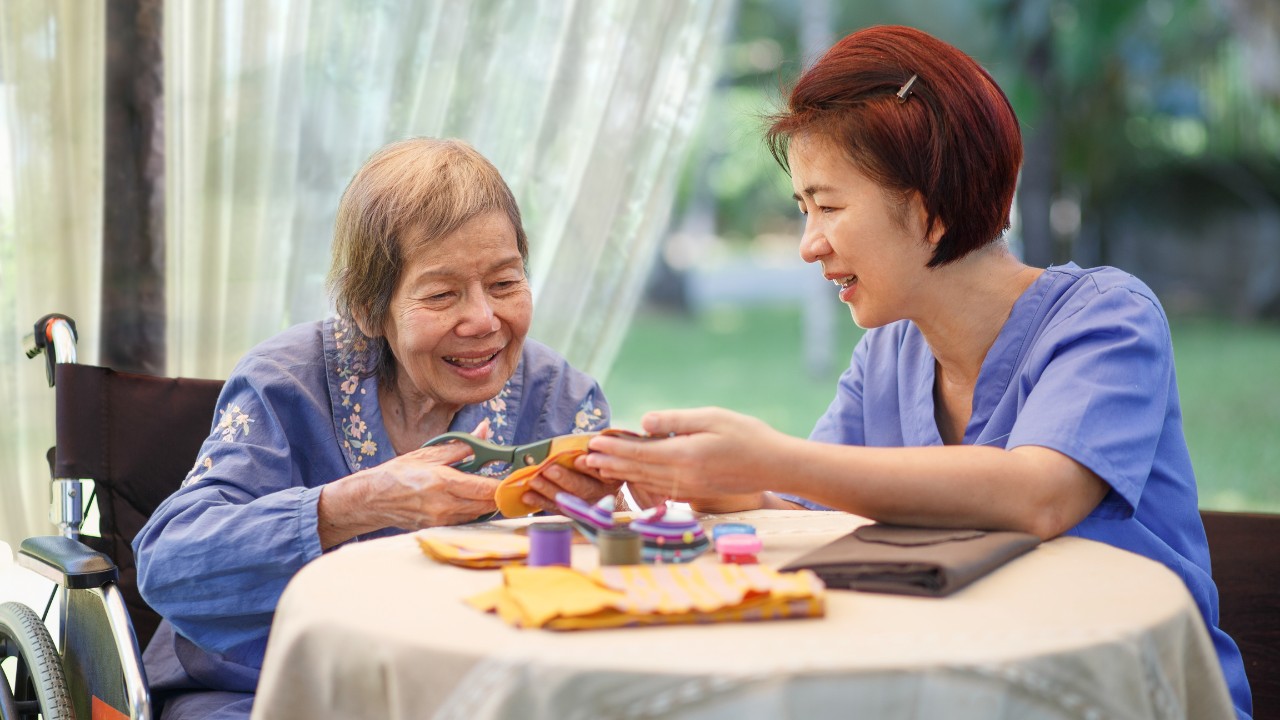 Recreation Assistants play an important role in the elder care sector, helping older adults rediscover joy through various recreational activities. Their main goal is to enhance the quality of life of older adults by providing them with opportunities to engage in activities that they enjoy and that promote their physical, emotional, and cognitive well-being.
Using a person-centred approach, Recreation Assistants work with each individual to identify past recreational and leisure activities they have enjoyed and help them pursue those activities. They also introduce new activities that older adults may not have tried before, providing them with new opportunities for socializing, learning, and having fun.
Recreation Assistants may organize group activities such as games, arts and crafts, music and dance sessions, and outings to community events and attractions. They also work with older adults on a one-on-one basis, providing personalized support to help them participate in activities that they find meaningful.
To be successful in this career, Recreation Assistants need to have a passion for working with older adults and be committed to making a difference in their lives. They should have excellent communication and interpersonal skills, as well as the ability to work independently and as part of a team. They also need to have strong organizational skills and be able to plan and coordinate activities effectively.
Overall, Recreation Assistant is a rewarding career for individuals who are passionate about making a positive impact in older adults' lives. It offers the opportunity to help older adults rediscover joy, maintain their independence and wellbeing, and enjoy their golden years to the fullest. Learn more about Recreation Assistants here.
Quick facts about Recreation Assistants
Education: 

Becoming a Recreation Assistant typically requires a diploma or certification, usually taking between 1 to 2 years to complete. 

Certification Required? No

English: 

A minimum of

 

Grade 10 English or Canadian Language Benchmark (CLB) 7 or higher  

 

Pay: 

$$
Most Recreation Assistants earn between $24 – $26 per hour in B.C.

Job Opportunities: 

★★★
From 2021 to 2031, there will be more than 6,800 job openings for recreation program leaders, recreation assistants, and related positions in B.C.

Sample Job Description: Coming soon.
What education and training is needed?
In terms of education and training, many Recreation Assistants have a certificate or diploma in recreation or a related field, although some may have a degree in a related field such as gerontology or social work. Some bridging programs are also available to support registered HCAs to upskill to roles in recreation. Many employers also provide on-the-job training and professional development opportunities for their Recreation Assistants to help them develop the skills and knowledge they need to succeed in their role.
Here are a few training opportunities that can help you start your career as a Recreation Assistant in British Columbia:
BCCPA's Recreation Assistant Training Program
With funding from the provincial government, BCCPA partners with post-secondary institutions to provide

free

Recreation Assistant training in communities across British Columbia. The program will pay 100% of your tuition and books while you participate in an 11-month training program. This includes online and in-person training, as well as hands on learning opportunities. Additional financial supports are also available to cover training related costs, such as child-care, transportation and PPE.  Learn whether you are eligible for our training program today.
Douglas College Diploma
A two-year diploma program focused on preparing learners to plan, implement and evaluate a wide range of programs for people with barriers to participation in leisure activities. Visit Douglas College to learn more. 

Stenberg College Diploma
A one-year diploma program with a focus on preparing learners to work with older adults, helping seniors pursue past recreational and leisure activities while also learning new ones. Visit Stenberg College to learn more.
Helpful Resources
There are many helpful resources to start your career as a Recreation Assistant in British Columbia. Here are just a few:
Facilitating Access to Skilled Talent (FAST)
The FAST (Facilitating Access to Skilled Talent) Program helps immigrants and newcomers to launch their careers in Canada through self-paced, online employment preparation and competency assessment tools developed in partnership with Canadian employers. Take the FAST occupational assessment for Recreation Assistants today to learn how your skills compare to employer expectations.
Career Paths for Skilled Immigrants – Allied Health 
The Career Paths program is a government subsidized resource that helps internationally educated health care professionals achieve their licensure or registration in British Columbia, including in newcomers with international experience as a Physiotherapist, Occupational Therapist, Dietitian, Medical Lab Technician, or Veterinarian.
Frequently Asked Questions
*coming soon*