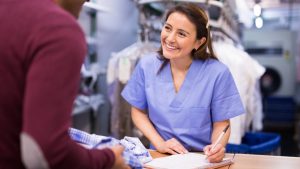 Support service roles in seniors care, living and wellness include positions like housekeepers, dietary aides, laundry workers and health care support workers. These jobs offer a way for people to start working in the care industry, even if they don't have a lot of prior experience or education. Roles exist in all types of care communities, including long-term care, assisted living, independent living, and private dwellings through home health agencies.  
These low barrier roles in seniors care and living can be a great starting point for people who want to work in this industry, and provide a pathway to advancement and further education and training. These jobs offer the chance to make a meaningful difference in the lives of seniors, and to be part of a team that is dedicated to providing high-quality care and support.  
Quick facts about Support Service positions
Education:

Typically completion of Grade 10 is required.

Employers will provide on-the-job training to orientate you to the role. 

 

Certifications: May require FOODSAFE Level 1, First Aid & CPR, Serving it Right, and/or WHMIS.

English:

A minimum of

Grade 10 English or Canadian Language Benchmark 5.

Pay:

$
Many entry level positions start between $21 – $24 per hour.

Job Opportunities:

★★★
BC's Labour Market Outlook

projects over

5,000

job openings for these occupations in seniors care over the next 10 years.

Sample job description: 

Coming soon.
Support Service Job Opportunities
Health Care Support Workers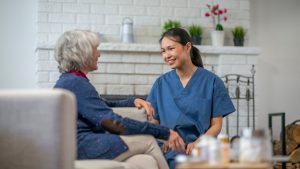 Health Care Support Workers promote and maintain the health, safety, independence, comfort and well-being of clients/residents and their families. HCSWs provide non-clinical support and services in a caring, respectful manner that recognizes and supports the unique needs, abilities, backgrounds and beliefs of older adults and their families.
Housekeepers
Housekeepers are responsible for maintaining a clean and organized living environment for seniors, which includes tasks such as cleaning bathrooms, making beds and doing laundry. 
Dietary Aides are responsible for preparing and serving meals to seniors, and ensuring their nutritional needs are met. This can involve tasks like setting tables, serving food, and cleaning up after meals. This role requires a commitment to person-centred care, and an understanding of basic food preparation and cooking techniques. 
Laundry Aides
Laundry workers are responsible for washing, drying and folding clothes and linens for seniors. This role requires attention to detail, good organizational skills and an understanding of how to properly care for different types of fabric.  
Multi-Service Workers
Multi-Service Workers are another common role in the care sector that combine the skills of many of the positions listed above, including housekeeping and laundry tasks, as well as support at meal-times.
Helpful Resources
There are many helpful resources to start your career  in support services in B.C.'s seniors care sector. Here are just a few:
Facilitating Access to Skilled Talent (FAST)


FAST Seniors Care is a free program that helps immigrants to launch their careers in Canada's seniors' care sector through self-paced, online employment preparation de

veloped in partnership with Canadian employers.

Take a FAST occupational assessment today to learn how your skills match up with careers in seniors care.
The Health Career Access Program is an entry level opportunity for people interested in joining the healthcare sector. You will start as a Health Care Support Worker and work your way up to a registered Health Care Assistant. The government will pay 100% of your wages, tuition and books while you undergo an accelerated 12 to 18 month training program. This includes online and in-person training, as well as the opportunity for hands-on learning in both home support and long-term care.
The Supportive Care Assistant program is an entry-level education opportunity for people interested in joining Canada's elder care sector. The free Supportive Care Assistant micro-certificate program is an opportunity to discover a new career, learn in-demand skills, get practical work experience, and make a difference in your community
Frequently Asked Questions
*coming soon*