Home Health Companions are unregulated workers who provide support and assistance to elderly individuals in their own homes. They are essential members of the elder care sector, helping seniors maintain their independence, dignity, and quality of life.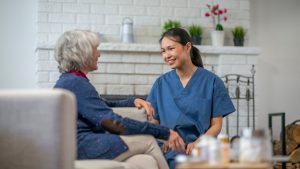 Home health companions typically provide non-medical care and support services. Typical duties include establishing a caring relationship with clients and their families, helping with meal preparation, performing light housekeeping duties, supporting recreational activities, and helping with other day-to-day tasks. They may also provide transportation services and accompany seniors to appointments and social events. Home Health Companions may also provide respite care for family caregivers who need a break. With additional training, some workers will also provide assistance with activities of daily living (ADLs) like bathing, dressing, and toileting, but these tasks are usually provided by Health Care Assistants.
Home Health Companions are valued members of the interdisciplinary care team, and work under the supervision of a regulated healthcare professional, such as a registered nurse or licensed practical nurse.
Quick facts about Home Health Companion positions
Education:

Typically completion of Grade 10 is required.

Employers will provide on-the-job training to orientate you to the role. 

 

Certifications: May require FOODSAFE Level 1, First Aid & CPR, Serving it Right, and/or WHMIS.

English:

A minimum of

Grade 10 English or Canadian Language Benchmark 5.

Pay:

$
Many entry level positions start between $18 – $22 per hour.

Job Opportunities:

★★★★
BC's Labour Market Outlook projects over 7,000

job openings for these occupations in seniors care over the next 10 years.

Sample job description: 

Coming soon.
Helpful Resources
There are many helpful resources to start your career as a Home Health Companion in B.C.'s seniors care sector. Here are just a few:
Facilitating Access to Skilled Talent (FAST)


FAST Seniors Care is a free program that helps immigrants to launch their careers in Canada's seniors' care sector through self-paced, online employment preparation de

veloped in partnership with Canadian employers.

Take a FAST occupational assessment today to learn how your skills match up with careers in seniors care.
The Health Career Access Program is an entry level opportunity for people interested in joining the healthcare sector, including home and community support services. You will start as a Health Care Support Worker and work your way up to a registered Health Care Assistant or Community Health Worker. The government will pay 100% of your wages, tuition and books while you undergo an accelerated 12 to 18 month training program. This includes online and in-person training, as well as the opportunity for hands-on learning in both home support and long-term care.
The Supportive Care Assistant program is an entry-level education opportunity for people interested in joining Canada's elder care sector. The free Supportive Care Assistant micro-certificate program is an opportunity to discover a new career, learn in-demand skills, get practical work experience, and make a difference in your community
Frequently Asked Questions
*coming soon